Most people are under the misimpression that wasps and bees are the same. Many attempts to remove wasp nests on their own thinking that wasps are as harmless as bees. Though wasps and bees look the same, wasps are far more dangerous than bees. Here we are trying to clear the misconception so that you do not take wasp infestation in your home lightly and call the wasp exterminator when needed. This information will further help you differentiate between wasps and bees.
Wasp Frequently Change Their Behaviour:
(image courtesy:greenleafpestcontrol.com)
It has been observed that wasps change their behaviour from season to season. In summer and winter, they thrive on live insects. During autumn, they shift their focus towards food that we consume. That is why, it is more likely that you will get to see wasps during the months of autumn. On the other hand, hornets have a consistent behavioural pattern. They eat live insects round the year.  
They can Attack You Without Provocation:
(image courtesy:thoroughlyreviewed.com)
One day the entire wasp nest may attack you and you might not even know the reason. What makes wasps more dangerous is pheromones. When they attack human and small animals, they utilize a chemical named pheromones. This works as an alarm and sends an alert to the entire nest. The wasps in the nest take it as an invitation to feast and attack the target. What makes this interesting is that some fragrances are similar to wasp's pheromones. If you are wearing such fragrance or are surrounded by it, you might be attacked by the entire nest of wasps.  
Wasps are More Aggressive:
(image courtesy:usercontent1.hubstatic.com)
Bees generally do not harm unless you disturb their nest. That is not the case with wasps. Even if you come closer to their nest, they might aggressively attack you. Wasps are over-protective about their nests. So even if you make a loud noise or vibration near their nest, they see you as a threat and you are likely to be attacked by the wasps. This is one reason why you should never try wasp nest removal on your own and should always seek professional help.
Wasp Sting is Poisonous: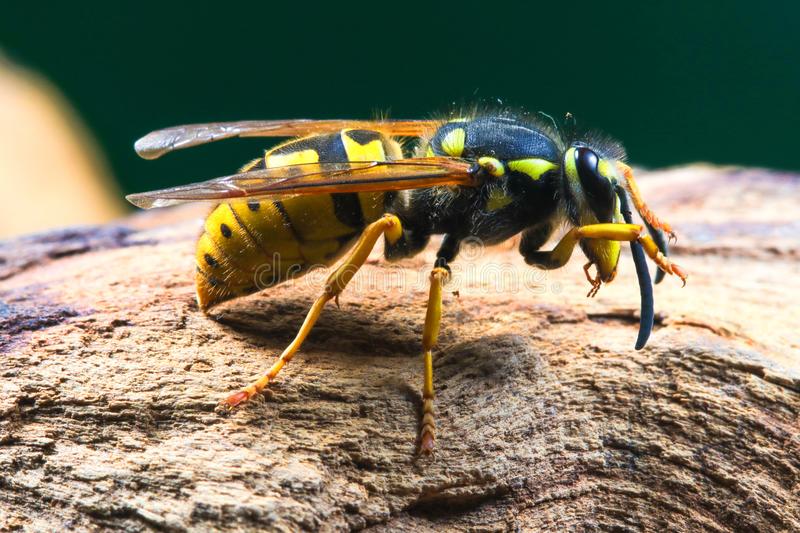 (image courtesy:thumbs.dreamstime.com)
 Wasps are not friendly. They are aggressive and territorial. That is why it is advisable to get rid of them as soon as you spot their presence in your home.
Call +1 647 924 2753 and get FREE quote from Pestisect Pest Control Service Brampton.